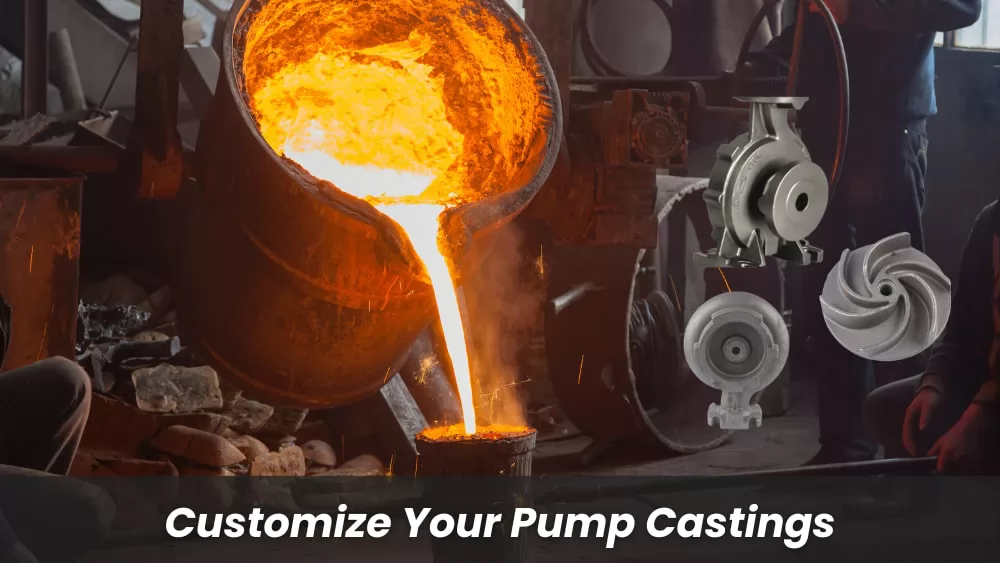 Introduction to Pump Castings
A pump is a mechanical device that moves liquid (fluid). Pump casting is a process cycle in which pump parts are planned and projected from various metals or metal compounds. It can impart more prominent strength and erosion resistance to items and manage fluid substances.
Pump castings can be made from various materials such as iron, steel, bronze and stainless steel to name a few. We can manufacture any pump casting or cast pump part in our foundry.
Video of the Process of Producing Water Pump Castings
Benefits of Using Investment Casting to Produce Pump Castings
Here are some of the benefits of using investment casting to produce pump castings:
High precision: Using the investment casting process can produce higher precision pump castings

Material Diversity: Investment casting can produce pump castings in a wide range of materials including aluminum, brass, bronze, stainless steel and other alloys.

More cost-effective: If you want to reduce production costs, then investment casting is your best choice.

Superior Surface Finish: Investment casting can produce pump castings with a smooth surface finish without the need for additional finishing operations.

All in all, investment casting offers a range of advantages for the production of pump castings, including high precision, material versatility, cost-effectiveness, and surface finish.
Pictures of Our Pump Castings
---
Pump Castings for All Applications
Besser Casting provides precision pump castings for a wide range of fluid handling applications as well as hydraulic and pneumatic equipment. We have a long history of working with the world's leading pump manufacturers and are familiar with most, if not all, ferrous and non-ferrous alloys used in pump design and production.
We offer cast pump bodies, pump casings, impeller castings and pump mounting brackets. And other pump castings for oil fields, oil exploration and refining, petrochemical, water treatment industry, solid waste treatment, concrete construction, etc.
FAQ about Custom Pump Castings
1. Are you a manufacturer or a trading company?
We are a professional precision metal casting manufacturer with over 20 years of experience in designing and producing pump castings machinery parts.
2. How can I get some pump samples?
If you need them, we are glad to offer you samples for free, but the new clients are expected to pay the courier cost, and the charge will be deducted from the payment for the formal order.
3. Can you make casting according to our drawing?
Yes, we can make casting according to your drawing, 2D drawing, or 3D cad model. If the 3D cad model can be supplied, the development of the tooling can be more efficient. But without 3D, based on the 2D drawing we can still make the samples properly approved.
4. Can you make pump castings according to our samples?
Yes, we can make measurement based on your samples to make drawings for tooling making.
Your Trusted Pump Casting Manufacturer
Besser Casting is one of the pump casting manufacturers in China. We have our own pump foundry. Our pump casting experience and dedication to quality ensure that all pump parts are durable and reliable. Create good work performance and low cost for customers.
Every pump part can be custom-made to your specifications. For pump parts casting questions and pricing, please email erica@bessercasting.com today.