Silica sol castings are used in a wide range of industries with a diversity in product structure, and a variety in customer's requirements for materials. To take various orders from customers, the foundry must meet the basic material requirements of customers. However, since there are hundreds of types of materials, it is unrealistic for one single foundry wants to have all kinds of the raw materials in storage. Therefore, most foundries can only provide customers with a portion of the common materials. This article will discuss the objective reasons why the price of castings made of special materials is relatively much higher.
We Besser casting mainly produce castings made of carbon steel, alloy steel, stainless steel and other materials. We are equipped with raw materials, which are mainly carbon steel and stainless steel and various alloy elements. In this way, we meet the requirements of customers for different materials by proportioning and adding alloy elements. Take stainless steel as an example, the material we often deal with is 304/304L/316/316L.
The following chart explains the chemical composition of conventional stainless steel materials.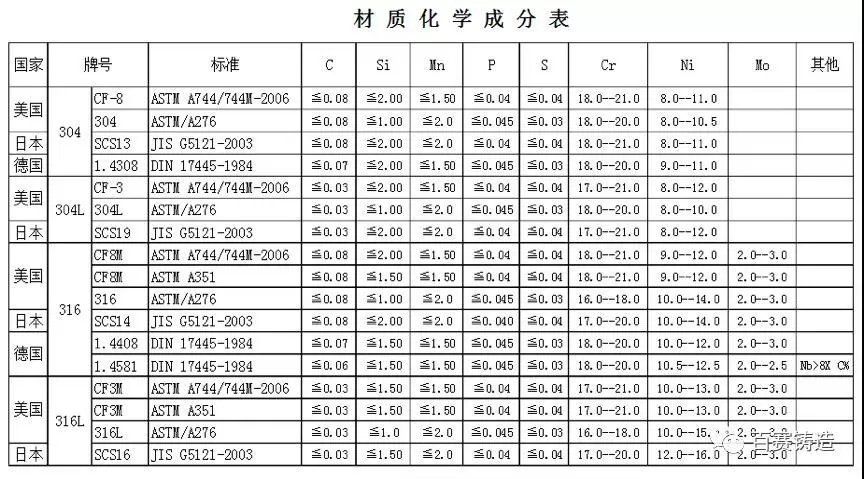 Although most of the customers are in need of conventional materials, there are a few customers who require special materials for their products, such as 309S or 310 materials, which will be very troublesome for our foundry to process. 309S chemical composition is:
carbon C: ≤ 0.08 silicon Si: ≤ 1.00 manganese Mn: ≤ 2.00 sulfur S: ≤ 0.030 phosphorus P: ≤ 0.035 chromium Cr: 17.00 ~ 19.00 nickel Ni: 9.00 ~ 12.00 titanium Ti: ≥ 5 × C%.
The chemical composition of 309S is similar to that of 304, except for that the chemical composition of 309S has more titanium content. As a result, the chemical composition of 309S needs to be additionally proportioned and added, and titanium must be added to the raw steel to meet the requirements. What's more, the casting process needs to be verified by using the spectrometer test chemical composition several times, which requires a lot of time and manpower in the production process. In addition, the production rate of our silica sol products is about 40%, so 60% of the excess material cannot be re-produced. It is a pity that the excess material can only be used when there is a product of the same material cast or directly disposed of as scrap. This processing greatly increases the production cost of our foundry, so the price of 309S is 1.3-1.5 times more expensive than 304 for the same product.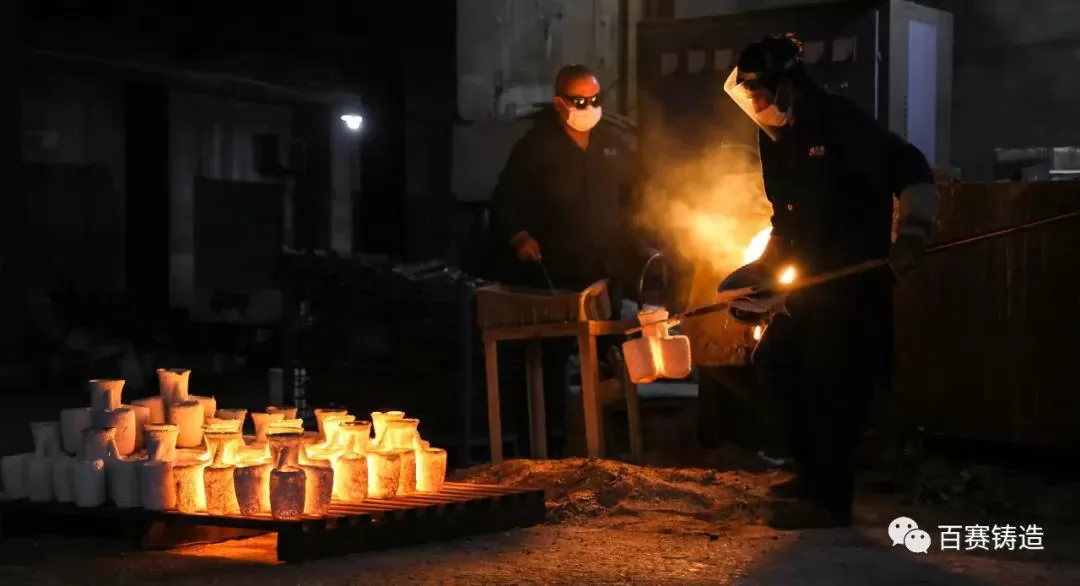 As for 310 material, it is similar to 309S, but a little different. 310 stainless steel is also called 2520 two-way stainless steel. Its chemical composition is:
carbon C: ≤ 0.25 silicon Si: ≤ 1.50 manganese Mn: ≤ 1.50 sulfur S: ≤ 0.030 phosphorus P: ≤ 0.045 chromium Cr: 24.00 ~ 19.00 nickel Ni: 19.0 ~ 22.0. 310 material chromium and nickel Ni: 19.0 ~ 22.0.
The content of chromium and nickel in 310 material is much higher than the content of chromium and nickel in ordinary 304 and 316 materials. As is known to all, chromium and nickel are relatively more expensive alloy elements. What's the same, the sprue bar material which accounts for about 60% of raw material cannot be returned to the furnace to cast conventional stainless steel products. Consequently, the price of 310 stainless steel is also more expensive, is 1.8-2 times the 304 material.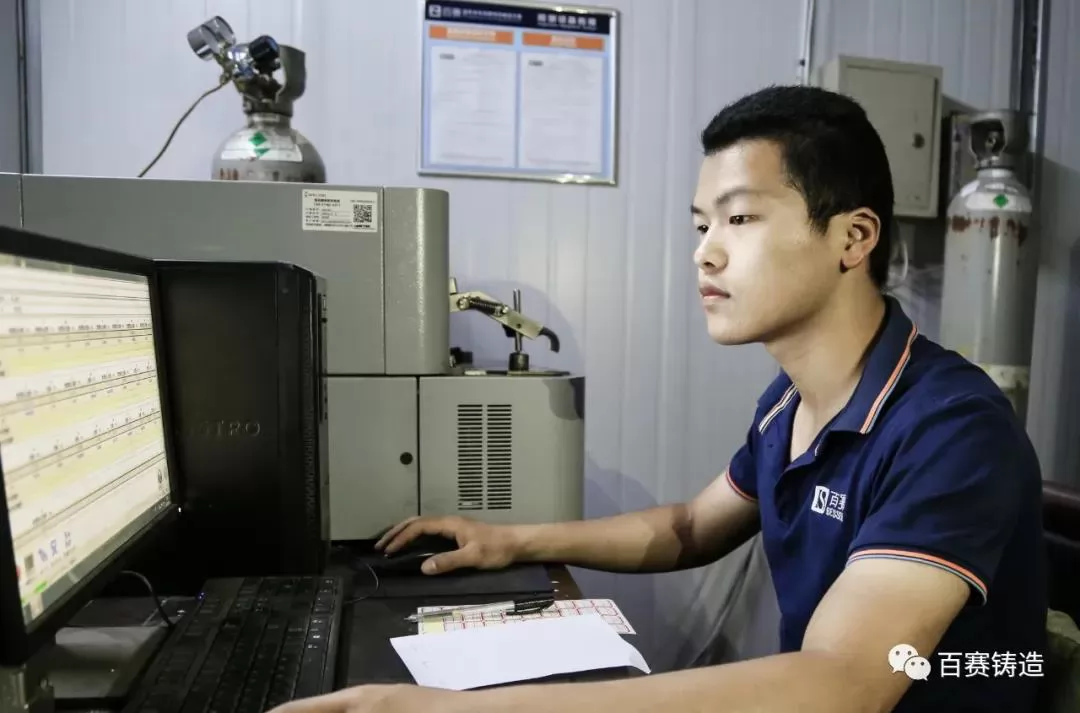 Especially in the early sample development stage, products of special requirements need professional technical staff to open a separate furnace, repeatedly proportioning debugging and record. The production cost of a separate furnace is around 400 dollar, and the effort and cost invested by the factory in the development of such products is far greater than the development of conventional materials.
The following chart shows the chemical composition of some materials recorded in our Besser ERP system.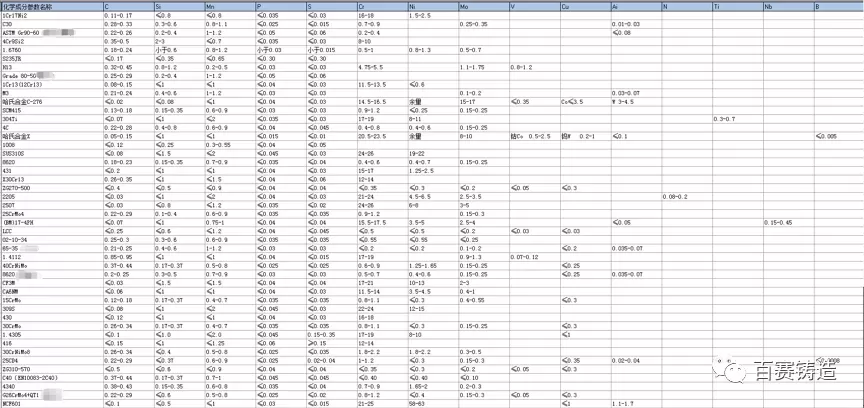 To summarize briefly, carbon steels: S235JR, Q345B, C45, S45C, GB25, G20Mn5, GP240GH, ZG310-570, EN8, 90-60 and other alloy steels: HMS18, 16MnCr5, 4130, EN40B, 105-85, 8620, 42CrMo, 20CrNiMo, 40Cr, SCM440 and other stainless steels: ZG2Cr13, 316L, 304L, CF8, 0Cr25Ni20, 304N, 17-4PH, 1.4581, 1.4305 (303), 309S, 436, etc. In addition, there are more special nickel-based alloys and Hastelloy alloys that require vacuum casting.
Our aim is to serve our customers well and provide them with forward-looking silica sol casting solutions. At present, our foundry has more than 20 kinds of conventional material products in production, more than 100 kinds of special material products production experience, more than 150 people in production technology team at call. We fight for the same goal and are always ready to provide our customers with best service and products!