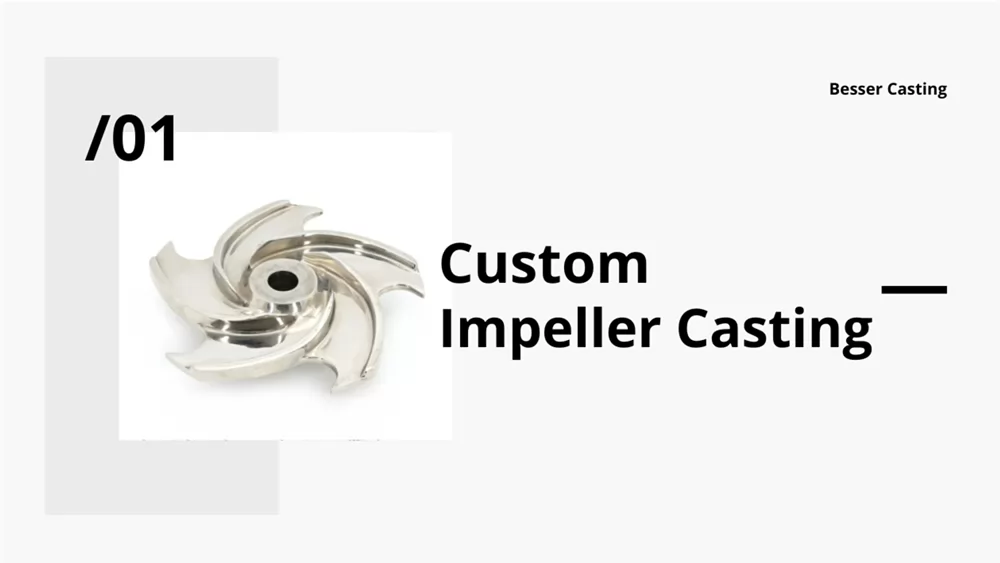 Introduction to Impeller Casting
Impeller castings are the rotating parts used in pumps, turbines, and other machinery to move fluid or gas.
Impeller castings can be produced using a variety of metal casting processes. Includes investment casting, sand casting or shell casting.
The choice of method for impeller casting generally depends on the material used for the impeller, the complexity of its design, and the precision and surface finish required.
Video of the Process of Producing Impeller Casting
Benefits of Using Investment Casting to Produce Impeller Casting
Investment casting is a process that can be used to produce impeller castings and offers several advantages over other casting methods. Here are some of the benefits of using investment casting to produce impeller castings:
Higher precision:
The investment casting process can produce high-precision impeller castings, this process ensures that the final product meets the required specifications.
Surface finish:
Investment casting can produce impeller castings with a smooth surface finish, which is important for reducing friction and improving efficiency.
More cost-effective:
While investment casting may have a higher up-front cost compared to other casting methods, it may be more cost-effective in the long run due to high precision, smooth surface finish, and ability to produce complex geometries benefit. This reduces the cost of manufacturing the impeller and increases overall efficiency.
Pictures of Our Impeller Castings
---
Main Applications of Impeller Castings
Besser Casting supplies high quality impeller castings to a wide variety of industries. We have a long history of working with the world's leading pump manufacturers and are familiar with most, if not all, ferrous and non-ferrous alloys used in impeller design and production.
FAQ about Custom Impeller Castings
Q1. Can I order impeller samples?
A: Yes, we welcome sample order to test and check the quality. Mixed samples are
acceptable.
Q2. Can you accept OEM?
A: Yes, we can
Q3. Can you provide data sheet and drawing?
A: Yes, we can
Q4. Can you shorten the delivery time?
A: If it is very very urgent, please confirm with the salesman. We would like to arrange overtime for you.
Q5. Can you provide heat treatment report?
A: Yes, we can
Q6. How to proceed an order for impellers?
A: Let us know your requirements or applications first.
Secondly, we quote according to your requirements or our suggestions.
Thirdly, the customer confirms the samples and pays a deposit for the formal order.
Fourth, we arrange production.
Choose Besser As Your impeller Casting Manufacturer
Besser Casting is one of the industrial impeller casting manufacturers in China. We have our own impeller foundry. Our impeller casting experience and dedication to quality ensure that all impeller parts are durable and reliable. Create good work performance and low cost for customers.
Each impeller part can be custom-made to your specifications. For impeller, part casting questions, and pricing, email erica@bessercasting.com today.