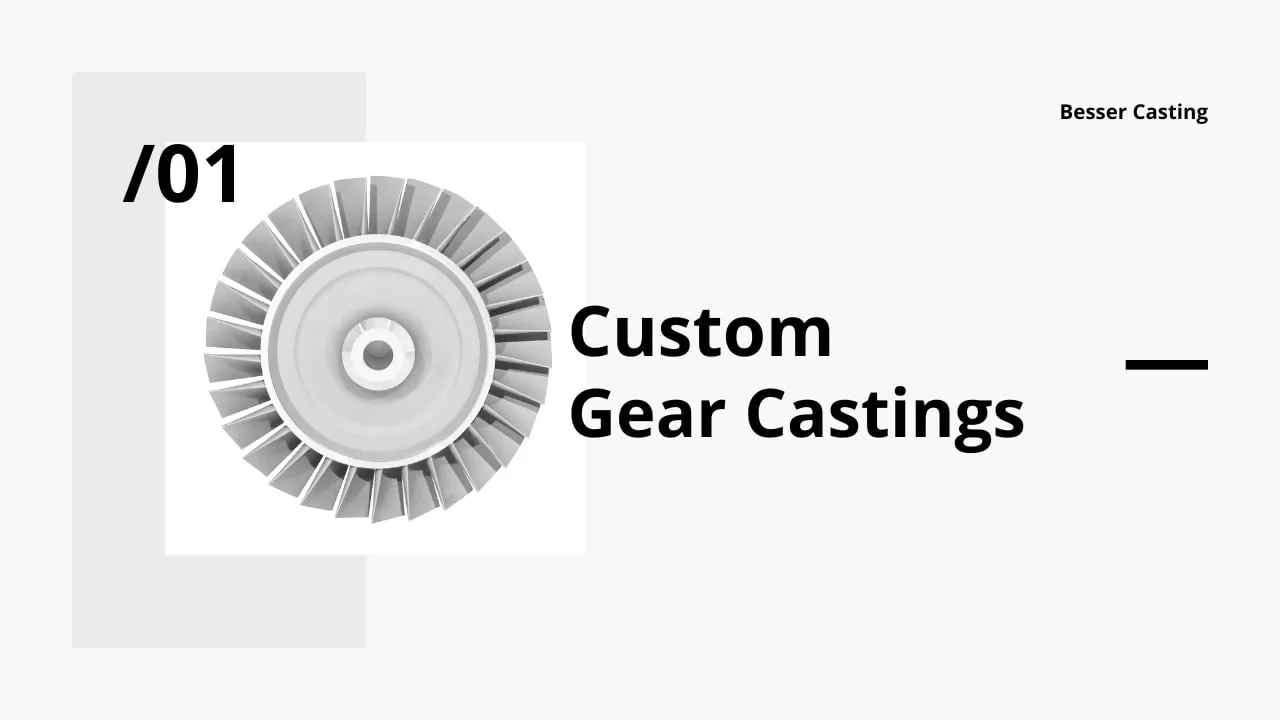 Introduction to Gear Castings
Gear castings are made by pouring molten metal into a mold with the shape of the desired gear profile.
Gear casting can produce various types of gear blanks or fully functional gears such as spur, helical, worm, pack and bevel gears.
Additionally, gear casting is more cost-effective when producing large quantities of gears using the investment casting process.
Video of the Process of Producing Gear Castings
Benefits of Using Investment Casting to Produce Gear Castings
Investment casting is a process that can be used to produce gear castingss and offers several advantages over other casting methods. Here are some of the benefits of using investment casting to produce gear castingss:
Higher precision:
The investment casting process can produce high-precision gear castingss, this process ensures that the final product meets the required specifications.
Surface finish:
Investment casting can produce gear castingss with a smooth surface finish, which is important for reducing friction and improving efficiency.
More cost-effective:
While investment casting may have a higher up-front cost compared to other casting methods, it may be more cost-effective in the long run due to high precision, smooth surface finish, and ability to produce complex geometries benefit. This reduces the cost of manufacturing the gear castings and increases overall efficiency.
Pictures of Our Gear Castings
---
Main Applications of Gear Castings
Gears are mechanical components that transmit power and motion between rotating axes. They are widely used in various machines and equipment, including the automotive industry, industrial machinery, robotics industry, aerospace, medical equipment, household appliances and other fields.
FAQ about Custom Gear Castings
Q1: Wonder if you accept small orders for gear castings?
A1: Do not worry. Feel free to contact us .in order to get more orders and give our clients more convener, we accept small order.
Q2: Can you send gear casting samples to my country?
A2: Sure, we can. If you do not have your own ship forwarder, we can help you.
Q3: Can you do OEM for me?
A3: We accept all OEM orders, just contact us and give me your design. we will offer you a reasonable price and make samples for you ASAP.
Q4: What are your payment terms?
A4: By T/T, LC AT SIGHT,30% deposit in advance, balance 70% before shipment.
Q5: How can I place the order?
A5: First sign the PI, pay a deposit, then we will arrange the production. After finishing production need you to pay the balance. Finally, we will ship the Goods.
Q6: When can I get the quotation?
A6: We usually quote you within 24 hours after we get your inquiry. If you are very urgent to get the quotation. Please call us or tell us in your mail, so that we could regard your inquiry priority.
Choose Besser As Your Gear Castings Casting Manufacturer
Besser Casting is one of the industrial gear castings manufacturers in China. We have our own gear castings foundry. Our gear castings experience and dedication to quality ensure that all gear castings parts are durable and reliable. Create good work performance and low cost for customers.
Each gear castings part can be custom-made to your specifications. For gear castings, part casting questions, and pricing, email erica@bessercasting.com today.